SHaRM is becoming well recognised in Vanuatu for their efforts and as such have been featured in a number of newspapers.
---
Vanuatu DAILY POST 2 December 2019
Nguna School gets a little help from some friends
A school project by the Nguna and School communities at Eles School on Nguna Island saw a project comprising of five flush toilets plus a shower room being commenced to upgrade the toilet facilities currently at the School.
Under the direction of the Headmaster, Moses Nasse, the complex stalled in June 2019, when the Committee's funding was exhausted pending further fundraising. the time, SHaRM Foundation was undertaking a major toilet complex build at Manua Centre Primary School in North Efate but an inspection at Eles School by SHaRM Foundation Project Manager, Stuart Friend, highlighted the need to get this complex completed prior to the cyclone season given the chance of deterioration of the structure currently in place.
With a little help from SHaRM Foundation in preparing a working model to assist a group of 9 Rotarians from New South Wales – the Rotary Club of Bowral-Mittagong – a proposal for completion of this complex was spearheaded by SHaRM and the Rotarians.
With the aid of SHaRM Foundation's generous local donor members — Cyrille Mainguy, Alain Lew from Port Vila Hardware and Pacific Polytanks – Geordie Mackenzie-Reur, plus full cooperation from the Ministry of Education and of course, the 9-hardworking team of engineers, builders and electricians coming into Port Vila from Australia to ensure the project was completed with the aid of some local volunteer and paid local workers.
After two solid weeks of work in early September 2019 the project was fully completed. This complex was handed back to the Eles School Headmaster Moses Nasse and the school community prior to the Rotary Club members from Bowral-Mittagong departing back to Australia on 22 September 2019.
SHaRM Foundation is very appreciative of all the assistance offered locally and the team effort in bringing this project to a quick completion means the pikininis at Eles School now have a completed toilet and shower complex with full septic system plus additional water storage making this a great asset for this progressive school on Nguna Island going forward into the 2020 school year. Another great achievement by all those contributing to this project.
---
SHaRM – Much more than a group of friends having coffee. By Tony Wilson
---
Kommuniti Mele Build Em Up' Project Commences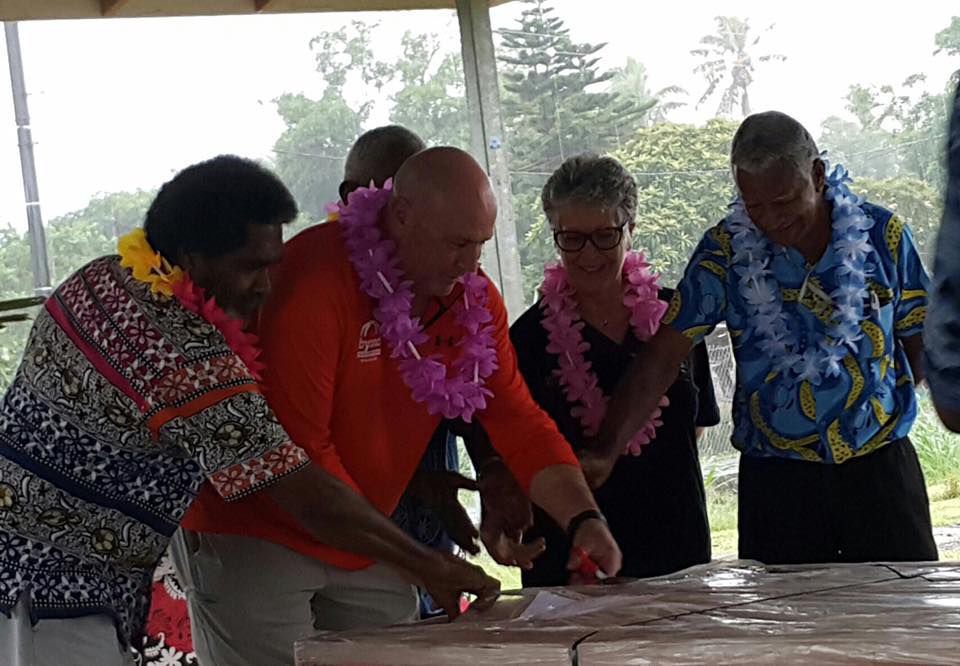 ---
---
---
---
---